Meet a woman who knows how to make people dance. DJ Sabine Blaizin is a talented Brooklyn-based DJ, who blends the sounds of the diaspora, lifts our collective spirit, and inspires us to move. Sabine has played a big role in Haiti Cultural Exchange's Selebrasyon!, and will be one of the featured DJ's at the festival's closing party this Saturday, along with DJ Gardy Girault. I'm grateful to have had to opportunity to interview DJ Sabine and chat about the inspiration behind her sound, the healing power of music, and her social justice and service
endeavors through
Lakay se Lakay
.
Check out the interview below!
How did you get into DJing?
Around 1999, I was an avid club goer (house & underground hip-hop music venues) and started collecting vinyl of some of the rare songs I would hear from my favorite Djs/Producers. My favorite spot was a record store called Dance Tracks in the Lower East Side, NY. It was a haven for dance music aficionados. I would spend hrs after school/work and on weekends listening to tracks and connecting with various DJ's/Producers who would come through. A close Dj friend said I had a good ear while playing vinyl at his house & slowly but surely I started playing out at basement parties and had a good reaction from fellow dancers/house-heads. Later, we started a party called Brooklyn Mecca in 2006...Brooklyn Mecca: Home of Grassroots Dance Culture.
Carlos Bell Photography
I haven't seen you spin in person, but from listening to your dope music and watching some video performances, I can clearly see the joy radiating from your being, when you perform. It looks as if you are connecting with a deep part of yourself, but also connecting with the collective vibe of the people. Talk to me about the joy of making people dance.
I started out as a dancer before DJing...various styles like house, hip-hop, capoeira, african,

Haitian

, etc...that sensibility to dance translated into my sets...playing music that would move ones spirit as well as my own.
My favorite work of yours is the Madiba Mix, which you published 4 days after Nelson Mandela's death in December 2013. This incredible mix blends excerpt of his speeches, the Haitian folk song "Mesi Bondye", music from Haiti's own Toto Bissainthe, and of course, dope beats from all over the world. When listening to it, I thought to myself, "How did she come up with this stuff?". What's on your mind and what's in your spirit when you're creating music?
I definitely tune into what's happening emotionally, socially, politically, spiritually around me when I decide to make a mix. It's like a time capsule. I can go back to various mixes and remember the challenges, inspirations, & triumphs of that period. It is a message to the the world, whoever's listening that this is my interpretation & homage to this sound.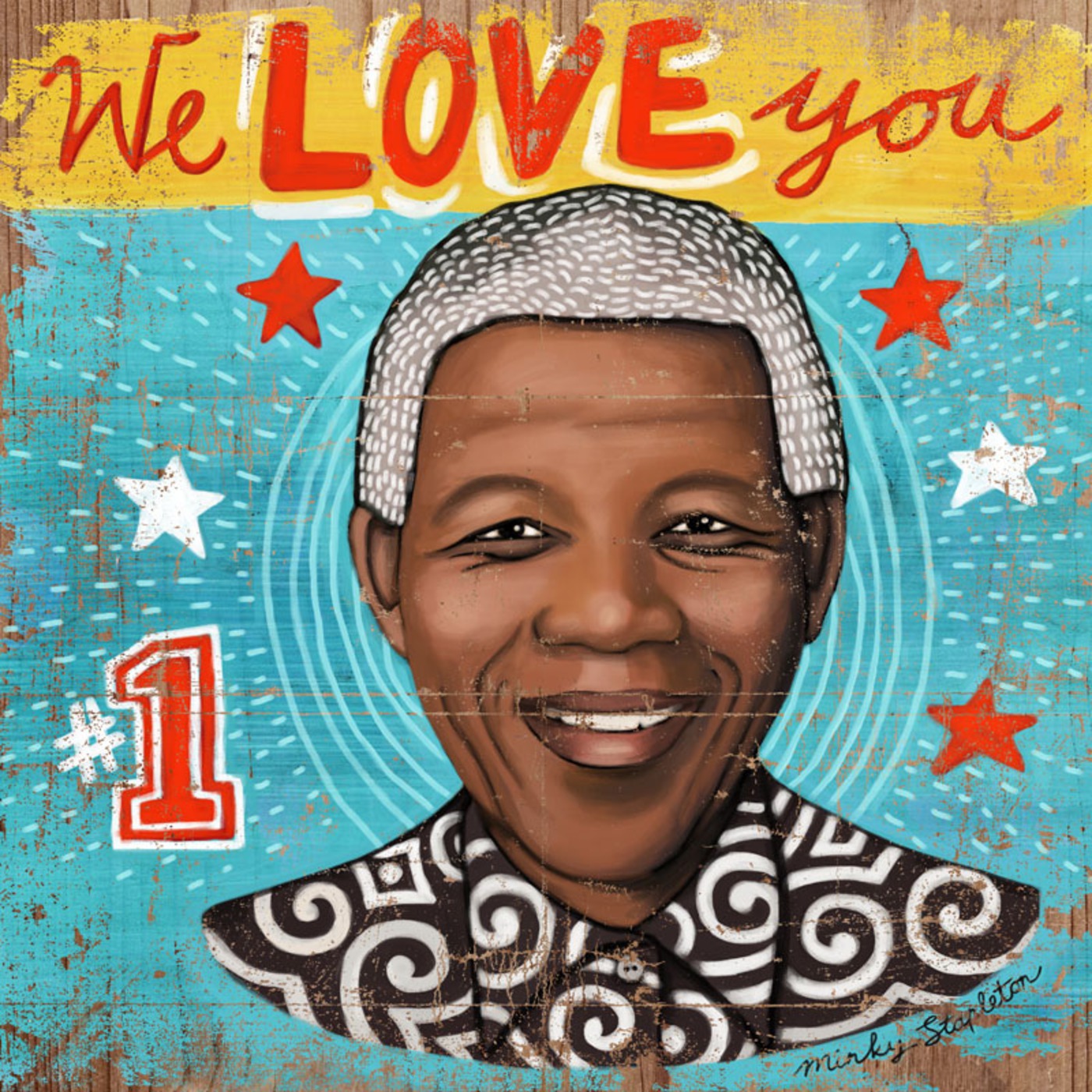 Cover of Madiba Mix
I had the opportunity to meet with one of my now favorite artists, Edouard Duval Carrié, during my last semester of college in 2011. At an event, he said something to the tune of, "As a person from two worlds, sometimes I get caught in between myself". This rang especially true to me as someone from multiple "worlds", on many levels. I'm half Haitian and half Ghanaian, and undeniably American (lol). It's always special to me to encounter art forms that somehow blend my worlds together. In your music, I hear the Haitian roots deeply, I hear the African beats, and I hear the house. What is the intention behind blending these sounds?
The intention is innate. I feel like its a calling and the Creator, Spirit Guides, & my Ancestors work through me....my purpose in this lifetime. The purpose to expose, lift up this sound...to be positively transformed by it....to define its uniqueness while recognizing the strength of its roots. Over time its become clearer and clearer to me why I do this work. I love my evolution and finding communities that share the same passion. The blending is the beauty of house music along with other genres that have a rich history like jazz, blues, & hip-hop.
"Her ear for music soothes the innate part of herself and others that honors the sounds of drums, the power of words, and the healing affect of conjuring up pure positive feeling and emotion." This is one of the descriptions I found of you. I have to say, although your music conjures up something within me that makes me want to dance, I find that it also puts me into a kind of trance, that I would describe as spiritually soothing, and thus healing. As a healer in training myself, I love that your music is described as "healing". What is it about music that is healing for you?
The freedom of expression & uninhibitedness....you can bring all of yourself onto the dance floor & its ok. There's a respect & recognition that is there whether said or unsaid...to have the feeling that a community "sees" you is empowering and uplifting...that's what I've found in this music scene & helped my healing process....I'm giving back through my music.
Music isn't all you do. You started Lakay se Lakay, a project that "seeks to be a multimedia hub for emerging cutting-edge Haitian diasporic innovators". Through art, workshops, and events, you plan to connect Haiti, Haitians and the Haitian diaspora with each other and with the world. Can you tell us about the inspiration behind Lakay se Lakay?
I wear many hats but all of it stems from a social justice & service foundation. In these various networks, whether its in education, arts, non-profit, health, social entrepreneurship, music, I see the need for shared stories, resources, visibility, and global exchange....that is what I seek to do with Lakay Se Lakay....bridge these needs & demystify stereotypes of our people while highlighting our great culture & art. I've been inspired by the incredible work within the Haitian diaspora historically and especially post the earthquake.
Check out the upcoming Lakay se Lakay event
HERE
.
Tell us why should we come to the No Passport party!


Because it's going to be the PLACE TO BE!!!!
We 're going to have an amazing Dj from Haiti, Gardy Girault & myself giving you the best of Haiti's dance music movement.
NOT TO BE MISSED!!!!
Where? DCTV: 87 Lafayette Street, NYC
When? 9PM
Be there!
RSVP to the No Passport Party on Facebook
HERE
Check out the party preview on Youtube: